Guide
Establishing Proper Governance & Security
How to build out robust protection measures to keep your organization free from worry.
In this guide, you will find everything you need to know about implementing robust governance and security measures.
Measures that allow for widespread access to resources while also ensuring that access to networks, compute resources, and data sets are limited to only those parties that need it.
Page Contents:
Click a link to jump to that section
Defining governance and security
According to numbers compiled by Statista, more than 160 million records were exposed through data breaches in the United States in 2019 alone. And that number was actually much smaller than the previous year, when the amount of records exposed topped a whopping 470 million.
While human errors and technical fails certainly contributed to these massive numbers, the vast majority of breaches were likely due to bad actors taking advantage of enterprises not properly protecting their digital environments.
These failures can be catastrophic for enterprises. Beyond substantial fines and, in some cases, Congressional hearings, allowing customer information to be exposed creates a distrust that stains a brand for years.
Compounding the challenge of protecting digital environments is the accelerated adoption of remote work. While this has helped many enterprises maintain stability, it's also inflated their potential exposure to lapses in security.
With more and more people working outside of the office, enterprises need to elevate their data protection. This includes:
Secure network access solutions
Strict governance measures to ensure proper access to data sets
Consistent monitoring of applications
Secure communication
What's the difference?
At a high level, governance is the common and agreed upon rules, business approval processes, and security measures for accessing IT resources.
Beyond protection, the goal of governance is to:
Establish rules internally for accessing and using IT resources
Define and implement compliance and regulatory requirements
Increase the value of data by democratizing its use
Reduce costs from downtime
Create opportunities by enabling self-service access to authorized resources and data for uses like artificial intelligence (AI) and machine learning (ML)
With proper governance in place, enterprises are able to ensure compliance of their systems through a number of different tools and measures, including:
Data encryption in transit and at rest, ensuring access control
Data lifecycle management providing automated deletion of data that is no longer useful or has been ordered destroyed by a customer
Leverage tokenization to mask specific segments of data, such as credit card numbers, to protect sensitive information
Distributed automated backups to provide resilience should a breach occur
Validation of governance by compliance audit tools
Cloud platform specific account management leveraging centralized cloud management and deployment tools
Levels of governance and security performance
While every organization's path to proper governance and security has a different starting point, there are generally four different levels that need to be passed through on their journey to elite performance.
1
If your organization is at this level, you have no defined standards, have limited visibility into your resource usage, and are hamstrung by the manual application of those policies you do have in place.
As a result, you have constant exposure to breaches, your ability to bounce back from data losses is extremely limited, and if forced to conduct a compliance audit your business would suffer from slowdown or downtime.
2
You have user management policies in place, conduct annual governance audits, and have classified all of your data.
Still, your security posture is reactive due to ad-hoc scanning of compliance, manual implementation of security configurations, and disparate logging. This limits your ability to identify and control risks..
3
At this level, your organization has centralized governance management and you are employing multi-layered security solutions.
You are employing automated processes for continual governance audits, compliance reporting, key management, and patch cycles. In addition, your network has been segmented by workload and your teams conduct quarterly scanning for security vulnerabilities.
4
You are at the peak level when it comes to governance and security.
You have a dedicated security operations team, are able to audit by code review, and utilize real-time analytics. Your security is baked into your automated processes and you are proactive with the testing of vulnerabilities.
At this level, your business is able to continually refine your security processes and has automated your event-driven responses. Your data is secure, governance is a part of your internal culture, and data is being utilized throughout your organization.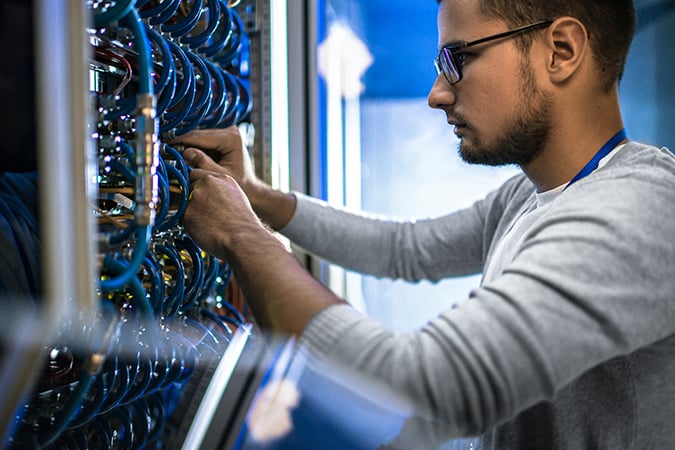 eBook
Protect Your Business With a Rock-Solid Disaster Recovery Plan
Learn how to get a plan in place to deal with inevitable disruptions, from hardware and application failures to data breaches.
Download Free eBook
Building out proper governance and security
Any effort to install proper governance and security begins with gaining a thorough understanding of your data and current capabilities. This means conducting:
An exhaustive cataloging of all your data, including what it's currently being used for and where it is coming from
An audit of the current data governance and security measures you have in place, if any, in order to identify potential risks
An assessment of your data storage platforms, whether it's on premises, in the cloud, or a hybrid solution
A detailed audit of third parties that may have access to some or all of your data
An assessment of your organization's resiliency and current recovery capabilities, including the expertise you have in place and how long it would take you to get back up and running following a disruption
With this knowledge in hand, you are in a position to build out your governance and security measures. Your areas of focus should be threefold:
Centralize your governance and security protocols
including a dedicated security operations team that proactively tests for vulnerabilities and constantly monitors the following of governance throughout your organization.
Automate as much governance and security as possible
such as continual governance audits, reporting on compliance, backups and disaster recovery, and key management.
Adopt the right security tools
that reinforce your governance and allow for the democratization of your data throughout your organization.
In a Nutshell…
Once the domain of IT teams, information is now being used throughout enterprises—from data scientists running AI and ML models, to sales and marketing, HR departments, and even outside vendors.
Each of these points of access has its own potential for breaches, which makes developing—and stringently following—proper data protection more critical than ever.
By instilling governance throughout your organization and leveraging security measures to back that governance up, you can reduce costs from downtime, achieve true democratization of data, and improve innovation by enabling self-service access to resources—all while ensuring your data is secure and in compliance.
At Redapt, we can help you achieve robust governance and security by training your teams on established security measures, following industry best practices, migrating off of legacy solutions, and implementing automation.
To get started building out your own governance and security protocols, contact one of our experts today.