Free PDF
Modernize & Thrive: How a Modern Data Architecture Can Transform and Elevate Your Business
Learn how you can make smarter decisions and create successful new products and services with a modern data architecture.
Fill out the form below and get your free copy.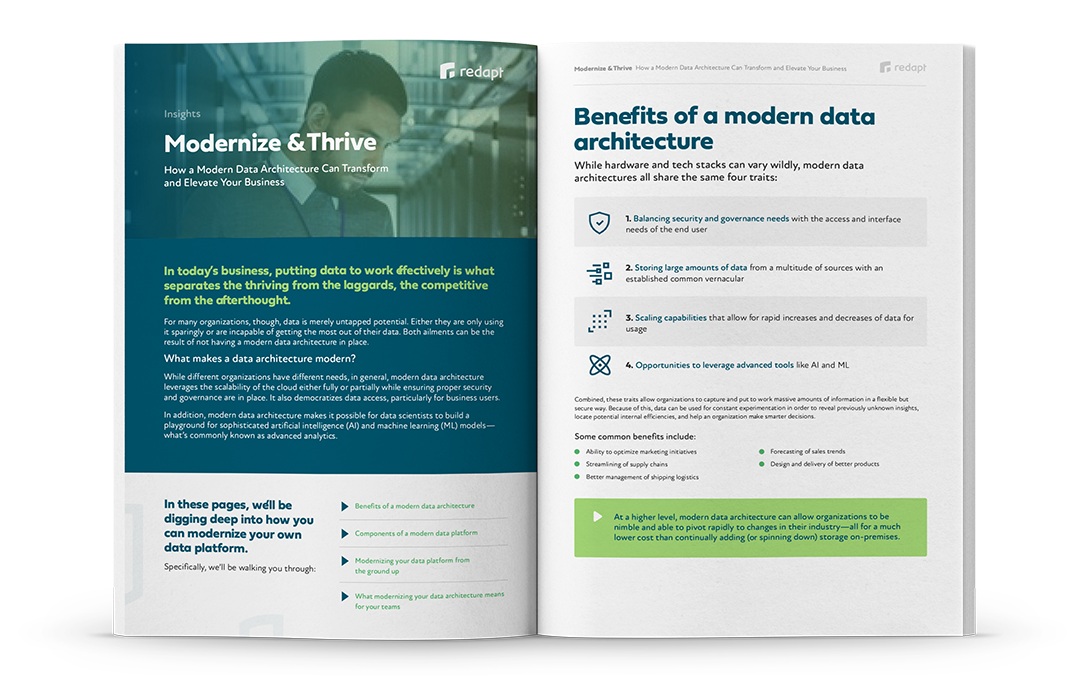 Don't watch as your competitors leave you behind. Start utilizing the power of the cloud and advanced analytics tools today.
Data is the driving force behind today's business. Those who know how to use it thrive, those that don't wither.
In our new guide, we walk you through how you can gain flexibility and unlock new revenue streams by modernizing your data architecture. You will learn:
The benefits of a modern data architecture
Components that make up a modern data platform
How to modernize your data platform
What modernization will mean for your teams
What you'll get:
Tips on how to modernize your data infrastructure.

Clarity on what you can gain from modernization.

Information on how modernization will affect your teams.
Download Your Free PDF
Get started on your journey to a modern data architecture. Get your copy of our free guide today.
Redapt needs the contact information you provide to us to contact you about our products and services. You may unsubscribe from these communications at any time. For information on how to unsubscribe, as well as our privacy practices and commitment to protecting your privacy, please review our
Privacy Policy.