Free eBook
Fast-Track Your Path To Business Innovation
Create a roadmap for technology and business transformation through the technical maturity model.
Fill out the form below to get started.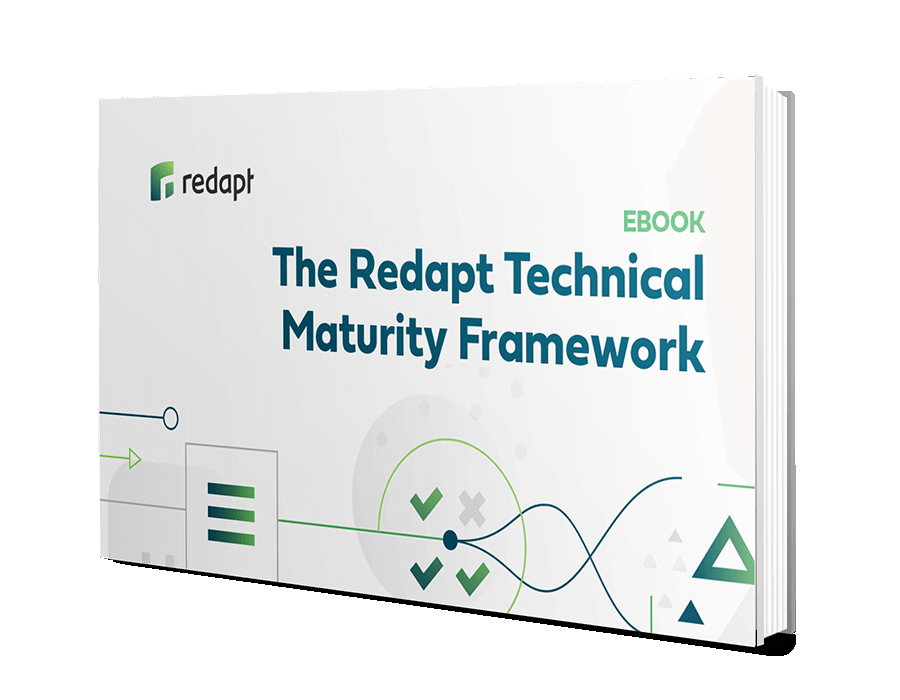 Are you ready for true business innovation?
Stop dealing with cross-departmental politics and miscommunication. Start aligning your business and IT departments through a clear technology maturity model that guides you on a path to leap ahead of your market.
The first step to getting everyone on the same page is understanding exactly where your company's level of technical evolution lies.
This FREE guide will walk you through:
What a technical maturity model is and how it can help your business innovate faster
How to apply the framework to your business to overcome legacy systems
Examples of how the maturity framework will help you scale and innovate better, faster
Why it works
Get from frustrated to focused

Redapt's technical maturity framework will help you cut through the clutter to focus on the essentials. This way, you can move forward and implement the right solutions that deliver value. Stop coping and get ready to get above the chaos for good.

You can't grow what you don't know

Without a system for tracking, measuring, and improving enterprise systems, you can't solve technical problems. At best, you may just put out individual fires. This is that system.

Create a measurable, repeatable process

By following the maturity framework, you can transition your organization away from the chaos of reaction mode and toward a peaceable, proactive framework of systemic improvement.
Download Your Free eBook
Start achieving business transformation faster by downloading our FREE eBook, The Redapt Technical Maturity Framework.
Redapt needs the contact information you provide to us to contact you about our products and services. You may unsubscribe from these communications at any time. For information on how to unsubscribe, as well as our privacy practices and commitment to protecting your privacy, please review our
Privacy Policy.